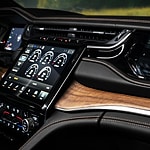 The 2022 Jeep Cherokee is designed with comfort and everyday utility in mind. Let's take a look at some of the features that you'll find in the newest Cherokee model.
New Jeep Air Filter: The 2022 Jeep Cherokee comes standard with the new Jeep Air Filter, which minimizes airborne particles in the cabin no matter where you may be driving.
Heated Steering Wheel: Thanks to the standard heated steering wheel, you don't have to worry about freezing your hands when you have to drive somewhere in your 2022 Cherokee on a cold winter morning.